Hey guys,
This is the monthly "meme" stock breakdown. The purpose of this post is to demonstrate the most talked about "meme" stocks on WallStreetBets (WSB). If you time an investment in these properly you can make substantial amounts of money.
Everyday I post to WSB with the latest option statistics for the most talked about stocks on the subreddit. This is a compilation of what I have noticed for the month of June 2021.
$AMC: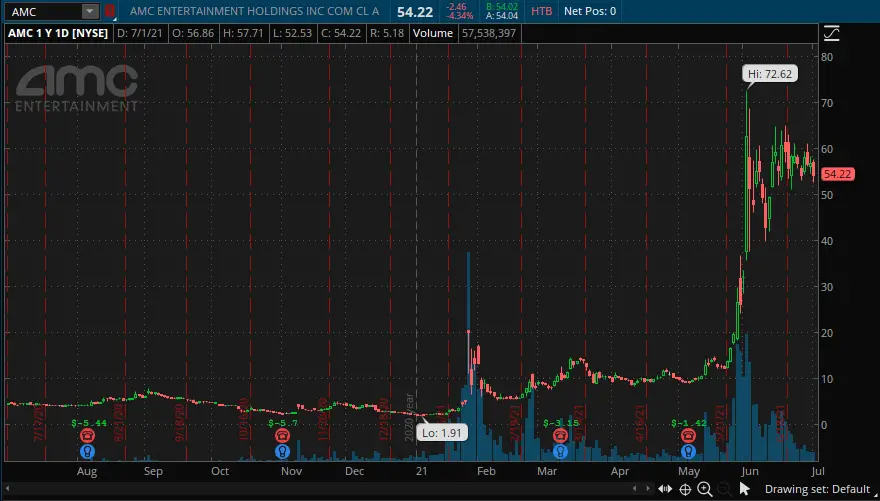 As we can see $AMC exploded on retail investor interest. "Smart" money on the street over shorted the dying movie theater industry heavily. This lead to several securities such as $AMC being a prime target for a short squeeze.
Retailers began to corral around $AMC in late May. We can see in the above image a quick pop in volume on the 1 year chart. Then in early July $AMC exploded up to its high of $72.62. If you would have bought call options on $AMC you could have seen a 1000% gain in your portfolio within about two weeks.
Currently the market is unsure on what is going to happen to $AMC. The volatility is still high but now is not the time to play options unless its an Iron Condor. Owning shares is a bit safer, but the valuation on $AMC is just way to high to justify the investment currently. If you plan on entering then remember that it is a casino right now.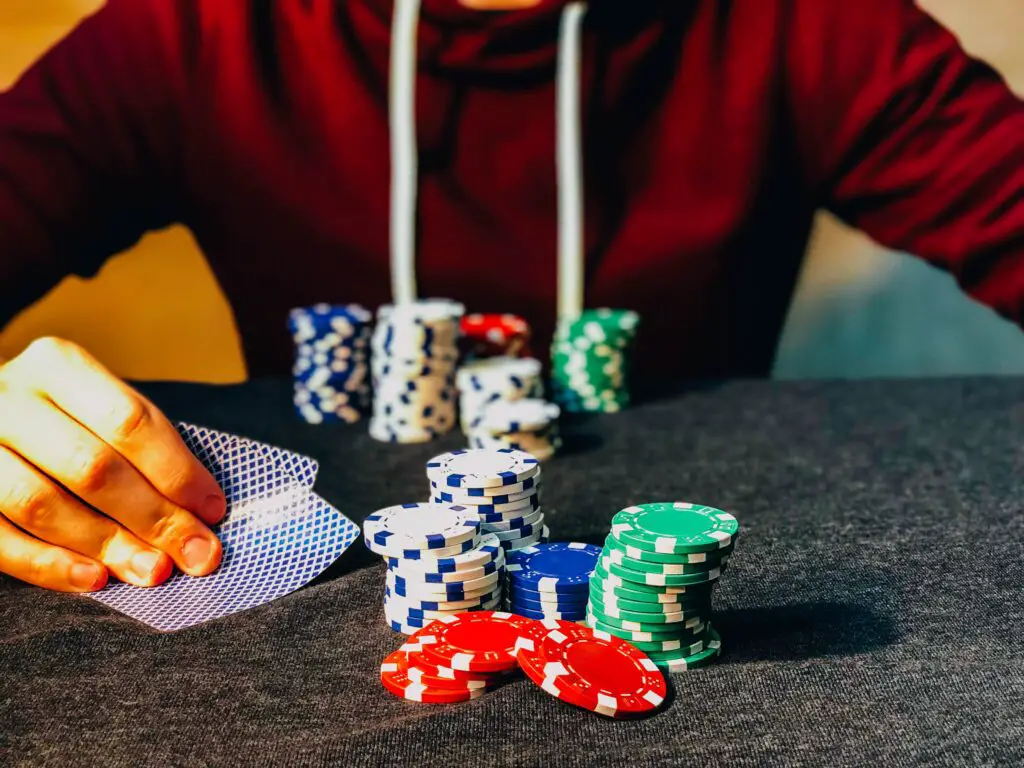 $GME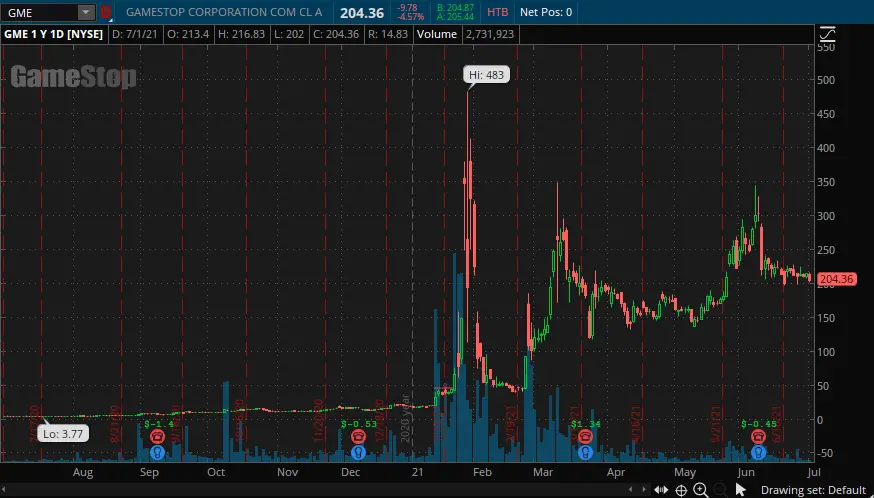 Ahh, the big bad wolf. $GME has proven time and time again how volatile a videogame distribution company can be. Retailers know about $GME and to many entry level investors $GME also represents an opportunity to get rich.
In January of 2021 $GME exploded from the high $10's and low $20's to an astronomical $483 within 2 weeks. If you timed this properly you could have walked away with 2400% gain. Options were even crazier with some people receiving around 3000% gain nearly overnight on IV explosions. The short squeeze didn't stop until several trading firms restricted trading on $GME and several other "meme" stocks, an action which the SEC is heavily investigating.
Since then $GME has proven that it will not die. The volatility has not subsided and many option sellers, enticed by high premium and theta decay, have lost substantial amounts of money on betting against $GME. Right now I would be hesitant to bet against $GME due to its proven track record of running at the weirdest times. I would stay away from options due to the high IV and instead opt for buying shares if I really wanted to own a piece of the pie. That being said the better investor in me always wins and I stay away from $GME, although I watch it like a hawk.
$CLOV:
Clover health…This bad boy came out of nowhere and exploded from $7.5 up to a massive $28.5. The biggest money maker on this play was the massive IV explosion on the options chain in early June. Congratulations to anyone who played that properly.
Since that explosion $CLOV rocketed down in price to consolidate in the low $10's. There were some people who bought calls in late May and bought puts in mid June. They made a killing and saw a huge return on investment.
The future for Clover is up in the air at the moment. We often times see these assets have a couple runs in them over time. As such I would buy shares if I absolutely had to play $CLOV. It would a be a buy and wait type of game.
$BB: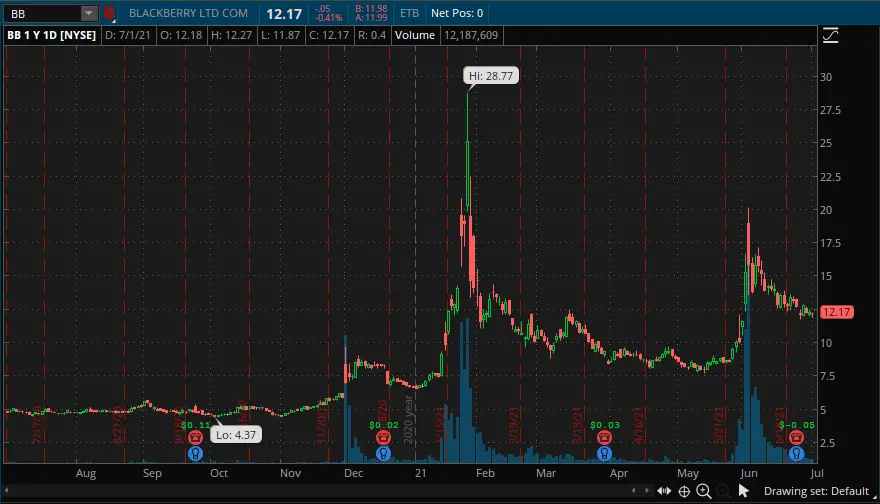 Good ole BlackBerry. For those of you who have been paying attention to my posts I am incredibly bullish on BlackBerry in the 2-10 year timeframe. Please see my research post on $BB below for a full rundown.
BlackBerry is interesting. It had a huge run up in January piggybacking off $GME. Since then the price consolidated in around $7 and volume faded. What is really interesting is when $AMC exploded so did $BB again, this time with more volume then in January!
This is more important then the price movement because that means that more investors (both retail and institutional) are looking at $BB's movement. If properly traded $BB can be seen as a pairs trade with the other meme stocks, much like you would invest in an ETF to gain on all sorts of traction. Perhaps $BB is proving to be an ETF for the meme community.
I hold $BB, my family holds $BB, I run into people on the street that added $BB to their portfolio. Its a solid choice for me. That being said I only allocated around 14% of my "meme" portfolio to $BB, but if $BB continues to gain social traction then I could see myself going up towards 20% allocation. Besides the "meme-ability" of $BB, its a solid company who has a recurrent revenue base and solid growth potential. For that reason I see good upside to $BB with little downside.
$WISH:
Context Logic ($WISH) exploded on strong retailer interest overnight. If you timed your investment properly you could have walked away with either 1000% on close to expiration options or about a 100% gain on stocks.
Since then $WISH has begun to trend sideways but with one interesting caveat. $WISH has trended slowly upwards reaching a resistance point at the $15 level all with volume slowly growing. This is a strong indication for further upwards momentum and possibly even a second breakout into the mid $20's.
Options are a strong candidate here, the longer that $WISH trends sideways the cheaper each contract becomes. I would look at scooping up some of these bad-boys when the IV gets closer to around 50%. If your not patient you can always buy shares and sell if the price ever moves below $9.5 or so. $WISH is definitely on my radar.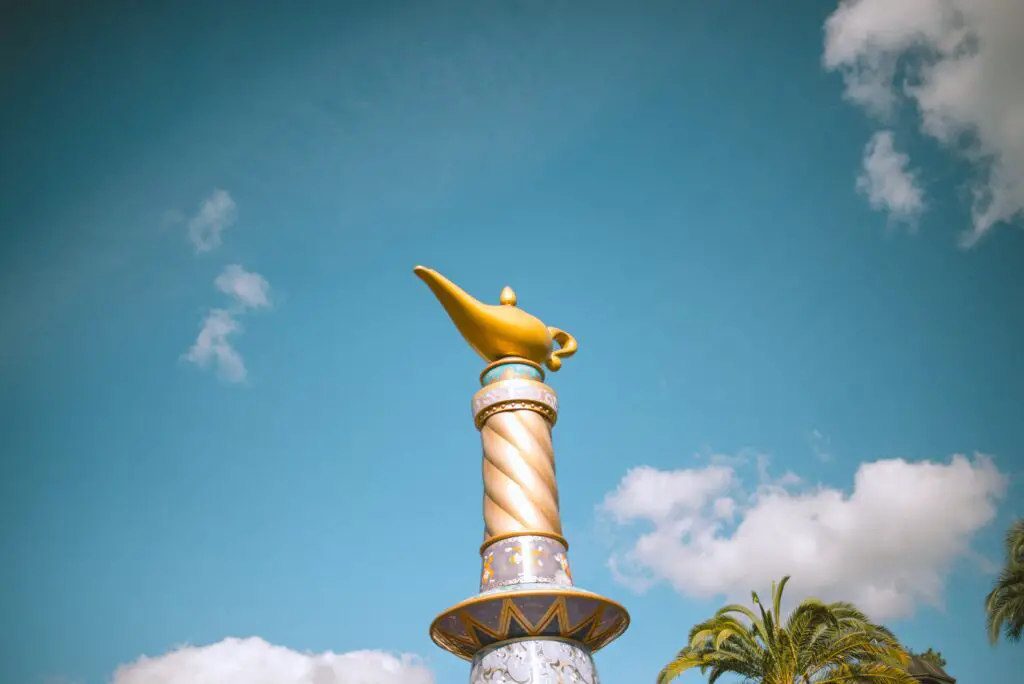 Honorable Mentions:
The following assets exploded in the month of June but have since died down or are dying down in both social and trading volume. But we should still keep them on our list because they could run again if either of those variables (social and trading volume) begins to uptrend.
$WKHS
$CLNE
$WEN
$AMD
$NVDA
$SPCE
$CLF
$BGS
Conclusion:
These stocks ran hard, if you timed the market right then you probably saw some crazy growth in your portfolio. Congratulations if you timed this month right. You could of walked away with a return in the 10000% on your portfolio, in the best case scenario. I'm sure that someone out there did.
If your interested in finding out how to find the next "meme" stock before the retailers do then check out my post on the necessary traits!
As always if you like content like this then you should like, share, comment, and subscribe to our newsletter. Every view helps me help others achieve financial freedom and make sense of this crazy market!
Until next time, best of luck in your investments!
Sincerely,